Seriously, why can't people in SoCal drive in the rain?
It's not hard people, just slow down a bit and put down the cell phone.
Remember the old hydroplaning video they showed in driver's ed?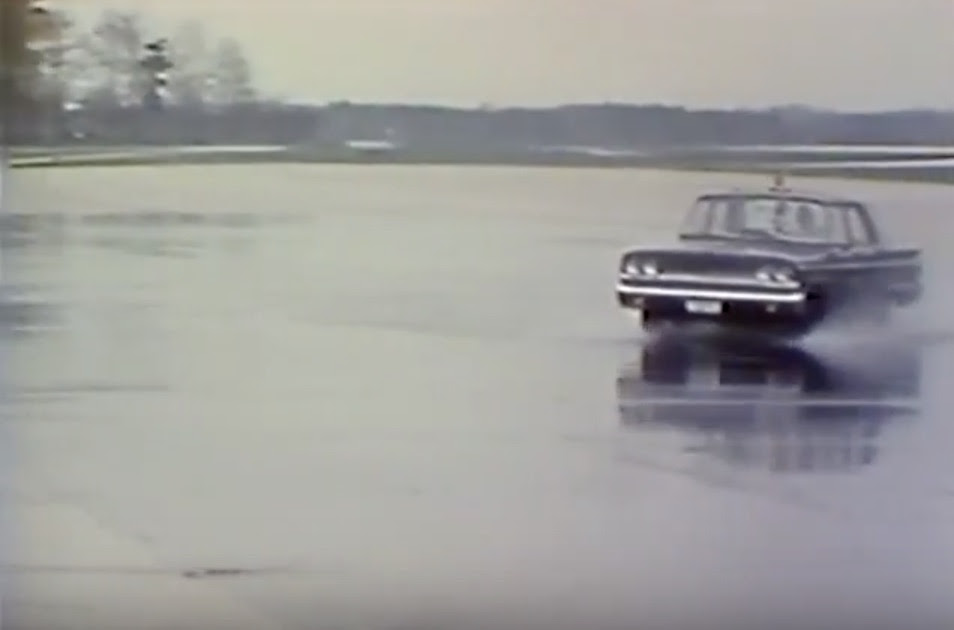 I went thru driver's ed in the 80's and they were still showing this same video from the 60's.
(in marketing-speak, we could call this an evergreen asset!)
Do you have any 'evergreen' assets in your business?
They are those things that work well for you… year-end and year-out.
Well, it's worth trying to get some of those for you and your business.
We'll discuss that more next week!
And regarding the rain?
Don't worry, it probably won't rain for another 12 months!
---
MARKETING TIP 
You Can Change It 
Today I want to share a story about one of our members, Kathleen Schmitt (also known as 'Kat').
She competed in and won our Marketing Contest last week.
And did so against two other stellar presentations by the dynamic podcasting duo of Matt Wolfe & Joe Fier and Dr. Ben Ramos with his brand-new (and already successful) chiropractic business.
All of the contestants won a free infrared sauna treatment from Eco Chateau (highly recommended if you haven't been there before) and a copy of our guest speaker's book, The Habit Factor (also excellent!).
Kat of course won a trophy and a $100 prize but all 4 of them did an amazing job.
Now…
The best tip Kat gave was buried in one of her slides.
It was super powerful!
And I want to share it with you…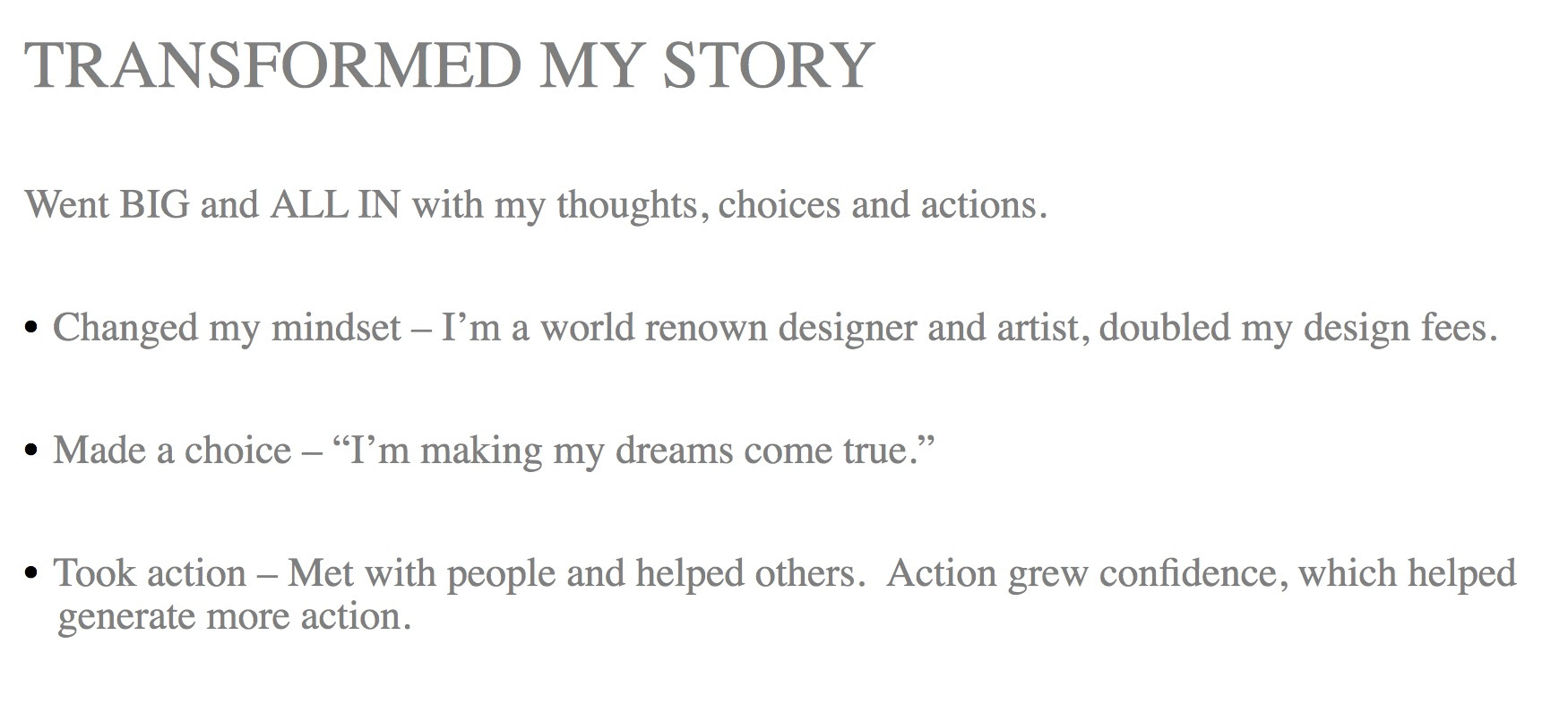 Now, seriously, who does she think she is?
Claiming that she is a world renowned anything?
And doubling her fees?
Ludicrous!
Who would think of doing such a thing??
Yet…
That's exactly the best thing that she could have done!
Without 'approval' from anyone else, any government entity, or any organization…
She made two very key mindset shifts.
She completely changed the "what" she is doing in her business…
Shifting & changing her title & positioning…
From Graphic Designer
to
World Renowned Designer and Artist
And…
She took her fees and did a big, fat, 2x to them.
The best part?
She's already seeing great results from these shifts and is already attracting some big, international clients!
Kudos to Kat!
It all began with stepping out of her comfort zone a little bit and trusting the process.
Hopefully this inspires you to maybe do the same for yourself!
By the way…
The recording will be live in the membership website later today where you can listen to all 3 of the contest speakers from last week – it is DEFINITELY worth watching these if you didn't see them live! (or even if you did to watch them again!)
---
8 WEEKS
If you're inspired by Kat, then you too might want to go through the 8 Week Business Growth Master Class coming up.
Kat just finished going through it and it's something that helped her dramatically grow in her business.
We'll be going through the Triple Double Blueprint in detail during this 2 month Master Class…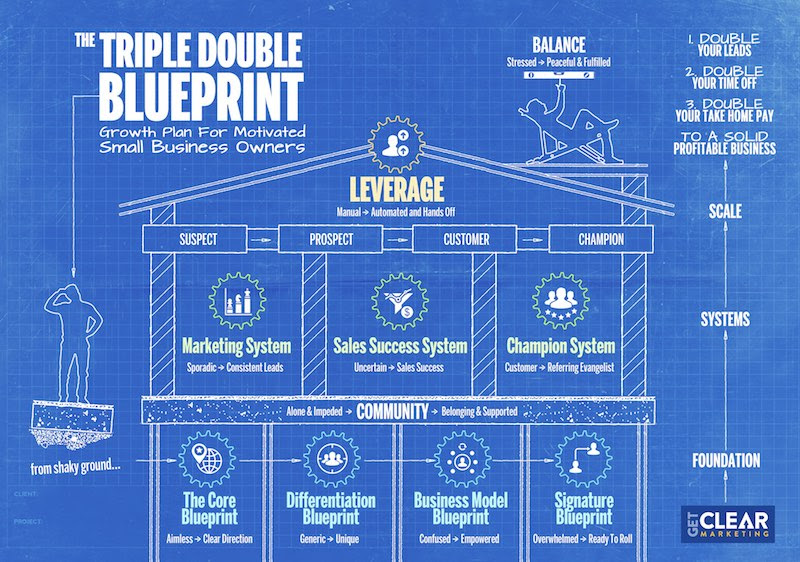 My promise to you…
If you want to make more progress in your business in the next 8 weeks than in the previous year, then you need to join us.
Email back to get the details.
---
DOG DAYS
Wait a second here…
We clean up his poop.
We feed him.
We rub his belly.
We hold him every day.
Who exactly is the boss here??
Skylar, the world's luckiest dog with another hard afternoon at the office.
Skylar the dog is sporting the new 'bed-head' look, a very cool January fashion statement…
QUOTE OF THE DAY
Ever seen How Beer Saved The World?
Watch it and you'll understand this quote even more!
Founder, Get Clear Marketing, Inc.