We finally made it through January!
In all seriousness, I think this was the worst January in years for me!
Usually one who prides himself on being positive, I was sick for 1/2 of the month, and had two different trips while not feeling well which is always hard.
BUT…
I did do a DRY January with no alcohol.
Maybe that was the problem?
Hang on, I gotta get a drink…
Let's just say that I'm glad January is over and done.
Bring on February and the month of love!
---
MARKETING TIP 
Evergreen Assets
We chatted briefly about this fantastically powerful concept last week.
The idea is to have some tool or marketing process that actually works over an extended time period.
One of my favorites is on the site of client and friend, Amy Barnhart…
This will show you her video sales letter or VSL.
Just a fancy way of saying a video designed to elicit a purchase – much like an informercial online.
While she has made some tweaks, changes and edits, it has fundamentally remained very much the same as it has been for several years.
And has brought in more than 7 figures in sales!
This is a prime example of an evergreen marketing asset for her business.
The best part is that is goes to work, 24/7/365 without needing to take time off or a break.
Do you have any of these for yourself?
Can you create any evergreen marketing assets?
---
2 MONTHS
One of the things we do in our 8 Week Business Growth Master Class is help you create Evergreen Marketing Assets.
We go through the Triple Double Blueprint in detail during this 2 month Master Class…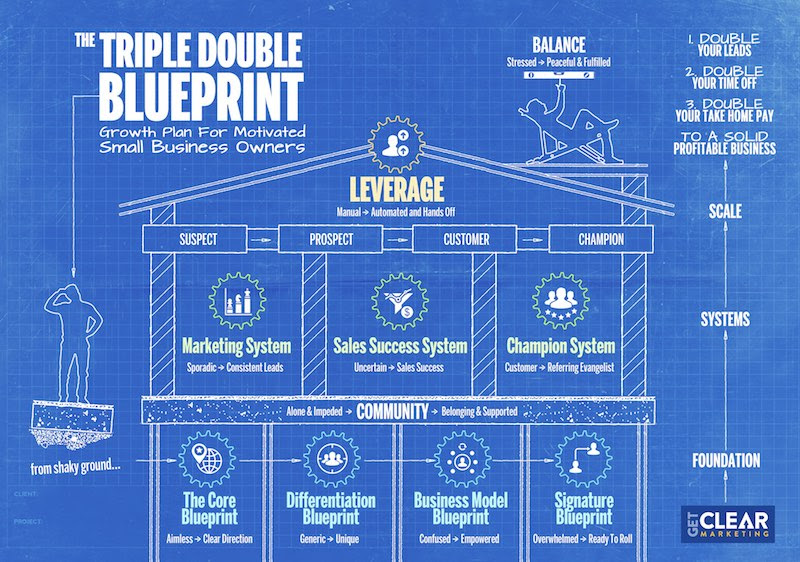 My promise to you…
If you want to make more progress in your business in the next 8 weeks than in the previous year, then you need to join us.
Email back to get the details!
---
INFINITE OPTIONS
Something to think hard about is all of the OPTIONS that your prospects have today.
There are literally 1000's of channels of TV, Netflix, Podcasts, Magazines, Twitter Feeds, etc, etc.
It is HARD to get the attention of your ideal prospects.
And, once you do, often times people are bored so quickly that they don't say engaged.
Marketing has changed.
Now you need to educate AND entertain your prospects.
And you sure as heck better not commit marketing sin #1…
Being BORING.
This is truly one of the worst things that you can do in your marketing.
And really in your business.
How can you keep your clients and prospects engaged?
Make it FUN to hear about you.
Share something personal about you, or your team, or your team's dog.
Make yourself HUMAN and APPROACHABLE.
Everyone expects a good product & service (and make sure to over-deliver here) but when it comes to keeping people's attention, try to do something of interest to keep 'em engaged.
QUOTE OF THE DAY
I hope you have a very successful day.